Insurance Coverage and Relieving The Financial Burden from our Loved Ones
As life expectancy increases, the number of years that people live with a chronic disease is expected to rise. While Singaporeans live up to the age of 82 on average, they are also likely to experience about eight years of ill health in old age.
In Singapore, more people are having the "3 highs"; high cholesterol, high blood pressure and high blood sugar. The numbers are alarming. In 2017, there were 606,000 cases of diabetes in adults in Singapore and this is expected to rise to 1 million in 2050. The National Population Health Survey 2016/2017 reported that 1 in 3 adults in Singapore has high cholesterol and almost 1 in 5 has high blood pressure.
High Medical Costs
With medical advancement, many of these conditions can be managed and treated especially if it is detected earlier. Nonetheless, these illnesses require lifelong management and medication in some cases. With medical inflation, it means that the cost of treatment and medication can become costly over the lifetime of the person.
In addition, studies have pointed out that people with any of the "3 Highs" are more likely to develop serious illnesses such as cancer, stroke and heart disease. Hence it is even more critical that they have the necessary protection to reduce the financial impact from the loss of income and large medical expenses when such illnesses strike.
Critical Illness (CI) protection for people with pre-existing conditions
Previously, those with pre-existing medical conditions or unfavourable health readings might not be able to obtain insurance coverage as insurers are generally risk-averse. People with poor health need insurance more than others but were unable to obtain one.
But in recent times, innovative insurance products are created that cater to people with poorer health.
1. Critical Illness plan for those with Type 2 diabetes, pre-diabetes high blood pressure, high cholesterol and high Body Mass Index (BMI)
This is an insurance plan that pays a lump-sum benefit in the event of a critical illness is essential to an income earner who may need to stop work for treatment. The insurance proceeds helps to replace his or her loss of income in such a medical event.
One such product is the Aviva's MyCoreCI plan.
Key Features:
Choice of coverage of up to $500,000.
Lump-sum payout upon diagnosis of 11 major Critical Illnesses (CI), Total and Permanent Disability (TPD), Terminal Illness or Death.
Get an additional 20% of the Sum Assured if diagnosed with any 1 of the 4 Diabetic Conditions covered.
Get a 20% refund of total premiums paid at the end of the policy term if no claim is made during the policy term.
An example of how this plan works: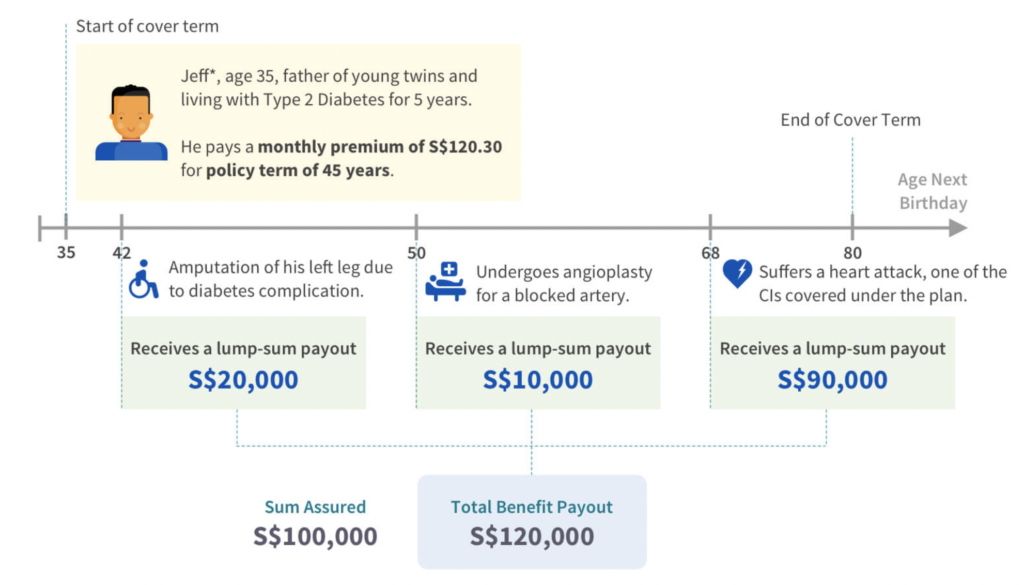 One thing to note about this plan is that the number of critical illnesses covered is lesser than the usual 37 definitions, but the major ones like cancer, heart attack and stroke are covered.
Previously, diabetics were not able to obtain critical illness coverage, but with such a plan it is possible, provided the diabetic condition and cholesterol level is within an acceptable range.
2. Hospitalisation plan for those with mild diabetes, mild hypertension, mild cholesterol
An Integrated Shield Plan is vital if you have a preference to stay in a ward above Class B2/C in the event of a hospitalisation or surgery and the flexibility to choose your own doctors. Launched on 1 Aug 2018, Raffles Shield by Raffles Health Insurance (RHI) is the only insurer that provides medical expenses coverage for those with diabetes, hypertension and cholesterol issues, if it is within an acceptable level.
To be covered, the life insured would also need to be enrolled in a chronic disease management programme offered by RHI or the government. The purpose of this is that while one may have a pre-existing condition, these diseases can be properly managed by following a care plan.
Some Unique Features of Raffles Shield:
High deductible option – this complement those who have company benefits, resulting in no coverage overlaps and thus, even more, premium savings.
A Raffles Hospital option for those who prefer treatment at Raffles Hospital. With this option, you have the choice of seeking treatment at a private hospital (i.e. Raffles Hospital only) without paying the high premiums like the typical plan that entitles you to all private hospitals.
Premium waiver – in the event of death or total permanent disability of payor of a child's plan, additional private insurance premiums will be waived until the child reaches 21 years old.
Highest Post-hospitalisation coverage: up to 365 days for treatments by panel or government restructured hospitals
Highest Pre-hospitalisation coverage: up to 180 days for treatments by panel or government restructured hospitals
Considerations
The Aviva MyCoreCI and RHI Raffles Shield plans provide opportunities for those with the 3 Highs to obtain important insurance coverage. Having insurance coverage helps greatly in relieving financial burden and stress to our loved ones in times of medical crisis.
Depending on the severity of one's condition, the insurer may impose a loading on the premiums or decline if it is too severe.
To enquire more about insurance for pre-existing conditions and the above plans, do contact our Advisory Team at enquiries@moneyowl.com.sg or 6329 9188. Our Client Advisers will assist you with your needs.
[1] The illustration is based on a male, non-smoker, age 35 on his next birthday, who bought a Sum Assured of S$100,000 for a policy term of 45 years. He is diagnosed with Type 2 Diabetes and his latest Haemoglobin A1c (HbA1c) reading within the last 12 months as provided by a doctor is 7.5%.