Looking to plan ahead for your retirement, finding a suitable retirement income plan may be a difficult process and could have left you overwhelmed with the multitude of options. So how do you know which retirement income plan is suitable for you?
Retirement income insurance plans have been gaining popularity among Singaporeans when it comes to retirement planning. They help us diversify our retirement portfolio, encourage a disciplined savings habit, and provide monthly guaranteed payouts during our golden years. As these plans are underwritten by insurance companies, they also provide some insurance coverage.
While you may know the importance of a retirement income plan, how do you know which plan is suitable for you with so many similar products in the market?
Here are some plan features to consider before making your decision.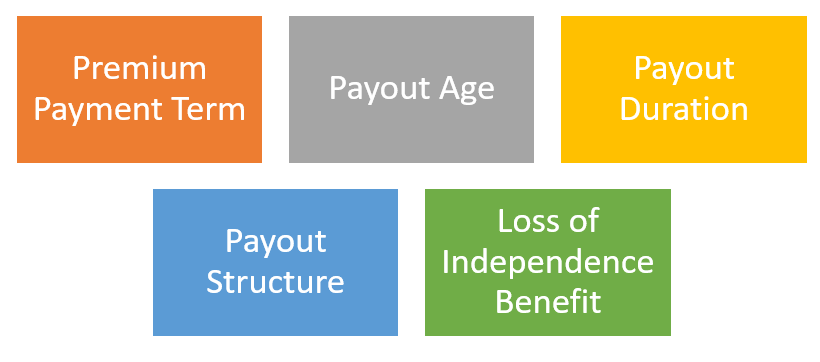 Premium Payment Term – How many years to pay premiums?
This refers to the duration for which you pay your premiums. Common premium payment terms are 5, 10, 15, 20, and 25 years. Generally, retirement income plans give you the flexibility to choose how long you want to pay premiums for. The earlier you complete your premium payment, the faster you accumulate cash value, and the more your total projected payouts will be. This is because the earlier you complete paying your premiums, the longer duration your investments have to compound and grow. However, this should be balanced with your monthly or annual net cashflow such that you are able to commit to the payment of the premiums to avoid policy lapsation. This is because as you shorten the premium payment term, all else being equal, the monthly or annual commitment will be higher.
Payout Age – When retirement income starts?
Retirement income plans provide monthly payouts when you reach the specified retirement age. If you are reminded of CPF LIFE, that is because retirement income plans work quite similarly. Fortunately, unlike CPF LIFE, you do not have to wait until 65 years old before starting your payouts. Some plans give you the option to receive payouts from as early as 50 years old or after the 5th year the premium payment term is completed.
If you are looking to slow down as you approach your retirement years, having some passive income will enable you to ease into retirement before you turn 65. With an earlier payout, you can also choose to stop working earlier to pursue your passions and hobbies. Of course, bear in mind that if want to receive your payouts at an earlier age, it means starting your retirement planning early so that your savings would have enough time to grow.
Payout Duration – how long will retirement income last?
Like premium payment term, you also have the option to choose your payout duration, i.e. how long would you like to receive your monthly payouts for. The payout duration can range from 10 years to a lifetime. Although it is tempting to choose lifetime payouts, all else being equal, it means higher premiums as your monies would need to stretch over an indeterminate period. To break even, you would need to receive about 20 years of total monthly payouts under the lifetime payout option.
On the other hand, choosing too short a payout duration may leave you vulnerable to longevity risk, i.e., outliving your retirement assets. In choosing your payout period, consider how your lifestyle and healthcare needs would change as you age, and how the lifelong income stream through CPF LIFE would complement your retirement needs.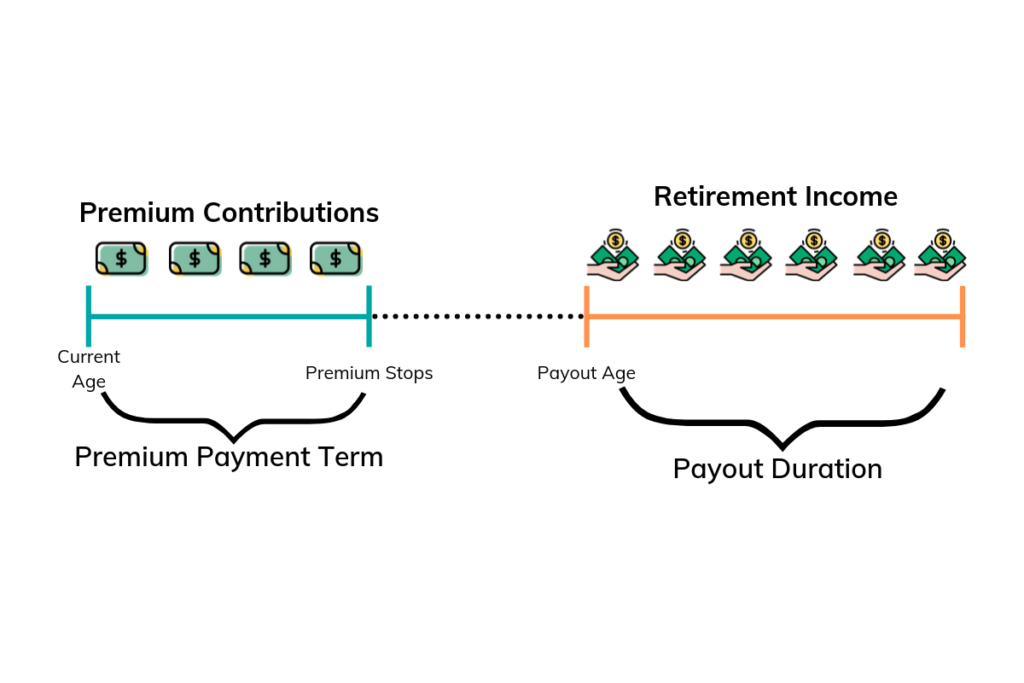 Payout Structure – How much of retirement income is guaranteed?
It is also important to understand the make-up of your monthly payouts. It is usually made up of a guaranteed and non-guaranteed portion. The non-guaranteed portion is based on the performance of the insurance company's participating fund. If you have a high need for a safe retirement income, you would want to look out for plans with a higher guaranteed payout.
Some plans give you the option to withdraw the bonuses accumulated to date in a lump sum when you reach your payout age or accumulate it further to enhance your monthly payout. This bonus can be welcomed as a retirement ang bao to kickstart your retirement.
Loss of Independence – extra payment if disability strikes
Some retirement income plans provide a "Loss of Independence (LOI)" benefit. This benefit provides you with additional payouts during your payout duration should you be unable to take care of yourself in the event of severe disability. This is a growing concern as while Singaporeans are living longer, they may not always be in good health. According to the Ministry of Health, 1 in 2 healthy Singaporeans aged 65 are expected to be severely disabled in their old age. The additional income received from this benefit can be used to hire a domestic helper, make home adaptations or pay for private nursing facilities.
The criteria for claims vary with different insurers. Some will require a doctor's diagnosis of one's total inability to perform 2 or 3 out of 6 Activities of Daily Living (ADLs) for a continuous period with no chance of recovery. ADLs typically refer to Toileting, Transferring, Feeding, Dressing, Washing, and Mobility. Other insurers will pay this out in the event of loss of a limb, speech, sight in one eye, or hearing.
From now till end April 2022, receive a De'Longhi Espresso Machine (worth $269) when you purchase a Retirement Income plan with us. Plus, get up to 50% of first-year commission rebates! More information here.
This article was first published in September 2019 and was updated in March 2022.