Buying Life Insurance and Ensuring Proper Budgeting
Every parent knows the importance of childhood vaccination. We took BCG and MMR according to the immunisation schedule without questioning what the vaccines are for. Unlike vaccination, the topic of child insurance has often been deprioritised and whenever it is brought up, it receives much debate surrounding the actual need for it.
If you are a parent wondering if there is a need to buy insurance for your child(ren), we have put together some considerations that can resolve your struggles in planning for your child's insurance needs.
Why is hospitalisation insurance important?
We often relate deteriorating health to age as we seem to agree that our body gives us more problems as we grow older. However, according to data published by Ministry of Health (MOH), in 2018, the hospital admission rate for children before 5 years old is comparable to the admission rate of seniors in their 70s. This might sound worrying to some parents already. Knowing that our children are curious by nature, we know that it is impossible to keep them away from all accidents and viruses. So what should we do?
Fortunately, every Singaporean new-born is covered by MediShield Life from birth. MediShield Life is a basic health insurance that helps pay for large hospital bills and selected medical treatments. It covers not only hospital room charges, but certain surgical treatments and operations as well. Here's a quick summary of what your child is covered for under MediShield Life.
Inpatient ward charges of up to $700/day. This is pegged to the rate of B2/C-type ward in public hospitals. Surgical treatments and procedures of up to $2,000. Outpatient treatments such as chemotherapy, radiotherapy etc., and Most importantly, all pre-existing conditions are
covered, including congenital and neonatal conditions.
While MediShield Life provides a basic level of hospitalisation cover,  it does have its
limitations. As its coverage is sized for subsidised treatments in public hospitals, if you choose to stay in a higher class ward or seek treatment at a private hospital, you will need to top up quite a fair bit of the hospital bill yourself. In addition, MediShield Life does not cover pre and post hospitalisation treatment, which could add up to quite a bit of out-of-pocket expenditure.
Due to the limitations of MediShield Life, many Singaporeans would go for Integrated Shield Plan (IP) for more enhanced coverage. The premiums for MediShield Life can be fully paid from MediSave, while the premiums for the IP are payable via MediSave up to the withdrawal limits. There are currently 7 private insurers in Singapore that offer IP.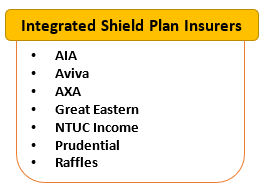 For more information on various integrated shield plan, you can refer to comparisons done by MOH.
Should I buy integrated shield plan for my child?
In deciding whether to purchase an IP for your child, parents should consider 3 primary aspects:
Better healthcare for my children – choice of hospital/ward & doctors
If you would like to have the option for your child to be treated at a private hospital or a better ward than B2/C type ward, or choose your preferred doctor, you should consider getting an IP for them. The IP also enhances the claim limits on various benefits and extends the coverage to include pre- and post- hospitalisation treatments. This will give you the peace of mind knowing that your children will receive the medical attention they needed while keeping our out-of-pocket expenses affordable.
Buying an IP for your children when they are perfectly healthy locks in their insurability for life. This means that the insurance company cannot throw in any exclusion in coverage if they are subsequently diagnosed with medical conditions. Some diseases/conditions can be inherited with the onset happening only at later age, for example Type 2 diabetes. In this case, it will be wise to buy an IP before the onset rather than after.
As the premium of IP increases with age, the premium for your young child is still affordable at their current age even with the highest plan. You can consider getting the best plan for the peace of mind and review later when your children start working.
Life Insurance
While hospitalisation insurance helps cover the cost of hospitalisation, life insurance pays out a lump sum benefit in the event of death, total permanent disability or critical illness. The main reason people buy life insurance is for income replacement, that is, to ensure that their dependants' and own's livelihood will not be severely impacted should they pass on, become permanently disabled or critically ill. With this in mind, we know that life insurance is important to guard against the uncertainties in life.
Why should I consider life insurance for my children?
As such, purchasing life insurance for your child may seem odd when they obviously have neither liability nor dependants to support. When parents purchase life insurance for their children, it is usually for a different set of considerations.
It helps replace parent's income
Life does not always go as planned. In the unfortunate event where our children are diagnosed with critical illness or disability, support and companionship from parents are almost as important as
any medicine a doctor can prescribe. For a dual-income family, it is likely that one parent would want to take a break from their full-time job to provide care for their children. The lump sum payout from the life insurance will then come in handy to supplement the family's daily living expenses.
It helps fund alternative treatment
When you have nothing else to lose, what else can stop you from trying? Some of us may have heard success stories about people surviving their late stage cancer by adopting some non-conventional treatments. Be it acupuncture or naturopathic medicines, these alternative treatments are usually not covered under hospitalisation insurance plan. Thus, the lump sum payout can be used to fund the costs of alternative treatments.
Coverage for common conditions among juveniles
Some life insurance plans provide additional coverage for selected common conditions among juveniles such as Kawasaki Disease, Dengue Haemorrhagic Fever, Autism, just to name a few. These payouts provide additional financial support for parents.
Whole Life or Term Life?
If you want to get a life insurance for your child, you will need to decide between a whole life or term life plan. As the names suggest, a whole life plan is designed to provide coverage for the insured's entire lifetime while term life only provides coverage within the stipulated period.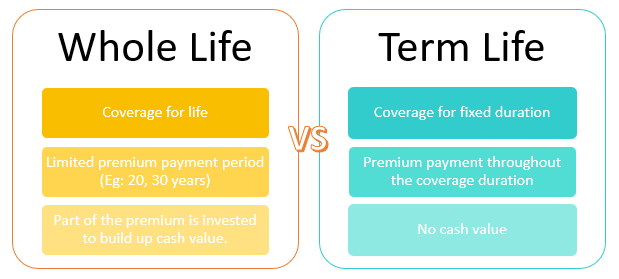 So how do we decide between the two? Here's a comparison table under 2 different scenarios.
Scenario 1: I buy a whole life plan for my son who is currently 6 months old.
Scenario 2: I buy a term life plan for my son who is currently 6 months old to cover him until his age of 65.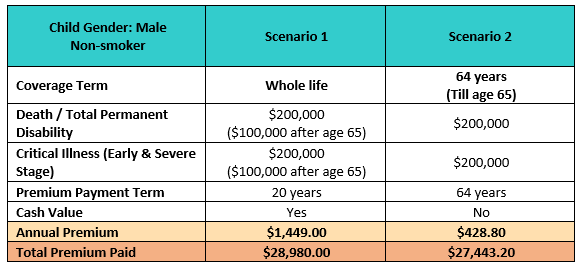 From this comparison, it is apparent that while the total premium paid between scenario 1 and 2 are quite similar, the annual premiums vary greatly. Essentially, with a whole life plan, I am paying higher premiums over a shorter time to get lifelong coverage and some cash value. While this sounds like a better deal, in making your decision, do ensure that you are able to commit to the premiums over the long term. At MoneyOwl, we are an ardent advocator of term life policies for protection. Buying a term life allows you to cover yourself fully at the lowest cost and leaving you sufficient resources to plan for other important financial goals in life. This largely applies to adults where the premium difference between whole life and term life policies are huge. For children, however, a whole life plan might be more appropriate as noticed in the illustration above.
Before you take off…
Just like how pilots and aircrews must perform pre-flight safety check, we too have a final checklist for you before you are good to go!
Now that you are a parent, you know that your children are depending on you. It is probably even more important to reassess your own insurance needs to ensure that your coverage would be sufficient to
take care of your new dependants' needs. Reviewing your insurance needs regularly can help us avoid being over- or under-insured.
Do you understand your financial situation?
As much as we want to provide the best for our child, our financial resources are not unlimited. As buying a life insurance policy is a long-term commitment, ensure that you have done a proper budgeting before committing to any plan. In drawing up your budget, you should also consider the resources you may need to set aside for your child's education needs or your own retirement goals. Getting your child covered with the essentials need not be expensive. With our Child Protection Bundle, you can insure your young child for less than $30/month.