In the fifth and final installment of this series, we explore the third must-have for retirement – a strong healthcare safety net that takes care of your healthcare needs.
Aging is inescapable. As we age, our body's healing ability declines significantly, especially in our silver years. We become more susceptible to illnesses and injuries, which may eventually lead to some forms of disability. The Ministry of Health (MOH) estimated that one in two healthy Singaporeans aged 65 could become severely disabled in their lifetime and may need long-term care. Furthermore, 3 in 10 severely disabled persons remain disabled for 10 years or more. With rising medical costs and longer life expectancy, having a safety net that will take care of our healthcare costs is a must-have for retirement.
The cost of healthcare can come from three areas:
Outpatient treatments
Hospitalisation
Long-term care
Safety Net 1 – Outpatient Treatments
These are treatments for common ailments (e.g. cough and colds), dental care as well as chronic conditions like hypertension and diabetes. The cost of treatment at GPs or even specialist clinics are generally manageable but the on-going follow-ups for chronic conditions can be a financial burden.
Fortunately, there are options for Singaporeans to enjoy subsidies at clinics participating in the Community Health Assist Scheme (CHAS) for medical and dental care. Benefits are tiered according to household monthly income per person for households with income or annual value of the property for households with no income. Do refer to the table below for the range of subsidies applicable.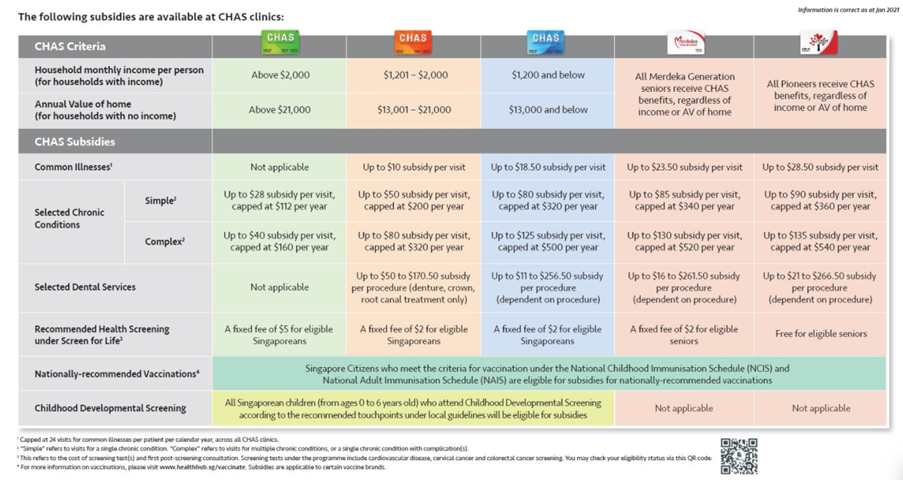 Source: CHAS website
With these subsidies, outpatient treatments have become more affordable. Add that to the many clinics that participate in CHAS and you get affordable healthcare near you. However, while all Singaporean households benefit from this scheme, it is still necessary to enroll for CHAS in order to enjoy the benefits.
Safety Net 2 – Hospitalisation
This is a key area where huge healthcare costs can arise. Big hospital bills pose a serious strain on retirement savings. Fortunately, every Singaporean and Permanent Resident is now covered under the compulsory MediShield Life scheme, which helps to defray the cost of huge medical bills at restructured hospitals for B2/C wards and selected outpatient treatments such as kidney dialysis and chemotherapy for cancer.
MediShield Life is a good and affordable medical safety net that covers everyone for life, regardless of age or medical condition, and gives us decent basic coverage for large hospitalisation expenses. It is also continuously being enhanced to keep pace with medical advancements and standards such as the recent changes made under the MediShield Life Council in 2021.
Is MediShield Life adequate for you?
MediShield Life is catered for those who stay at Class B2 or C wards at restructured hospitals. These are heavily subsidised wards with basic amenities and no flexibility to choose your preferred doctors. Those who prefer amenities such as air-conditioning, attached TVs and bathrooms, or the option to choose your own doctors, may upgrade to an Integrated Shield Plan (IP) for:
Restructured hospital in B1 ward
Restructured hospital in A ward
Private hospitals
Interestingly, more than 7 in 10 people in Singapore own an IP and about half of them are catered for private hospitals. With rising IP premiums, some may find it no longer affordable. As part of your retirement planning, it is important to include premiums for your IP in your budget as these could contribute quite substantially to your monthly expenses as you grow older. There may come a point in time when you could be deciding whether to keep your IP.
Upgrading or downgrading your IP
Before making changes to your MediShield Life or IP, you should consider the following.
The premium for MSHL/IP increases over time. Consider the current and future premium.
The MediShield Life Premiums shown above are before any subsidy given based on household income. With this subsidy and discount, the IP premium will be lower than reflected above.
Note that you can pay the MediShield Life premium fully using Medisave. For IP, you can only use Medisave to pay the additional insurer premium up to these caps:
$300 if you are 40 years old or younger on your next birthday.
$600 if you are 41 to 70 years old on your next birthday.
$900 if you are 71 years or older on your next birthday.
Amounts above the withdrawal limits will have to be paid in cash and this cash outlay should be factored into your budget in your retirement plan. Compare IP plans on our insurance online platform.
Always upgrade or downgrade with the same insurer
If you must upgrade or downgrade your IP, the golden rule is to make changes within the current insurer. If you switch to a different insurance company, the new insurer could impose exclusion on pre-existing conditions that you may have. What this means is that you cannot make any claims on the IP that is related to the excluded pre-existing condition.
Safety Net 3 – Long-Term Care
As we age, we may require long-term care due to severe disability in old age. A person is considered severely disabled if he or she is unable to perform at least three Activities of Daily Living (ADLs) independently, namely:
Feeding
Dressing
Toileting
Washing
Mobility
Transferring
When this happens, caregiving is needed.
ElderShield was launched in 2002 to address the financial concern of long-term care. Being a non-compulsory scheme, a significant number of people chose to opt-out especially when it first started. However, the benefits of ElderShield are kept low for affordability. Monthly payouts are either $300 for up to five years or $400 for up to six years.
CareShield Life
Since October 2020, CareShield Life (an improvement from ElderShield) was launched. Not only does it provide higher payouts of at least $600 (which increases by 2% per year till age 67 or when a claim is made, whichever earlier), the payouts are for life as long as severe disability persists. Severe disability can be due to a physical injury, illness, or even severe mental impairment. Singaporeans and PR who were born in 1980 or later would have been automatically enrolled into CareShield Life.
Older Singaporeans and PRs who are not severely disabled will be automatically placed on CareShield Life from late 2021. Those born in 1979 and earlier will also get to enjoy participation incentives between $500 and $4,000 to offset CareShield Life premiums. This is in addition to current means-tested premium subsidies. CareShield Life premium is dependent on several factors including your age, gender, citizenship, monthly per capita household income, residential property, and whether you are currently on an ElderShield plan or not. CareShield Life premiums can be paid using your MediSave savings.
Should I switch from ElderShield to CareShield Life?
Monthly payouts of $300 to $400 under ElderShield for up to six years are insufficient to meet long-term care costs, especially as severe disability is likely to last longer than the five to six years after occurrence. While you may have income from CPF LIFE payouts, it can be a strain to pay for long-term care costs out of these payouts.
Long-term care options include staying in a nursing home, being looked after by a helper or family member at home, or a combination of day care and home care. The cost can easily range from $1,000 to over $3,000 per month before subsidies. Even after means-tested subsidies and CareShield Life payouts of $600, there will still be a cost that has to be borne out of one's retirement income.
Estimated Costs of Long-Term Care Options for lower-middle-income Singaporeans after subsidy and CareShield Life Payouts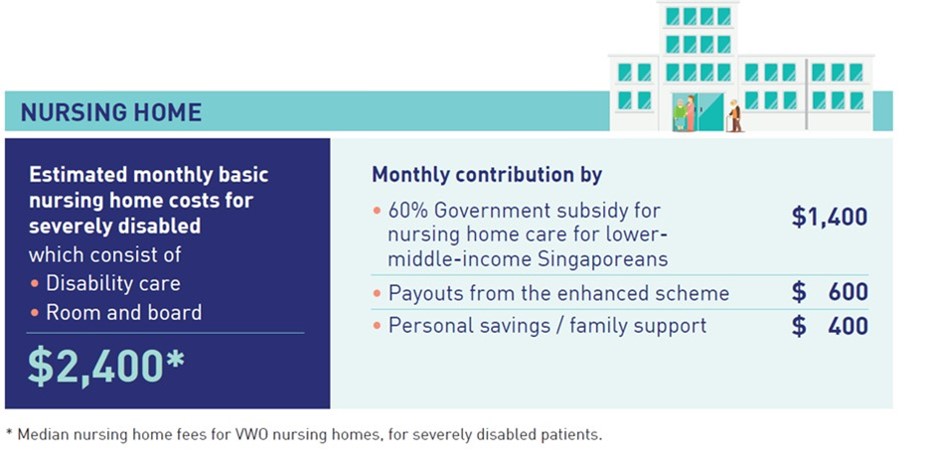 Source: Eldershield Review Committee Report, 25 May 2018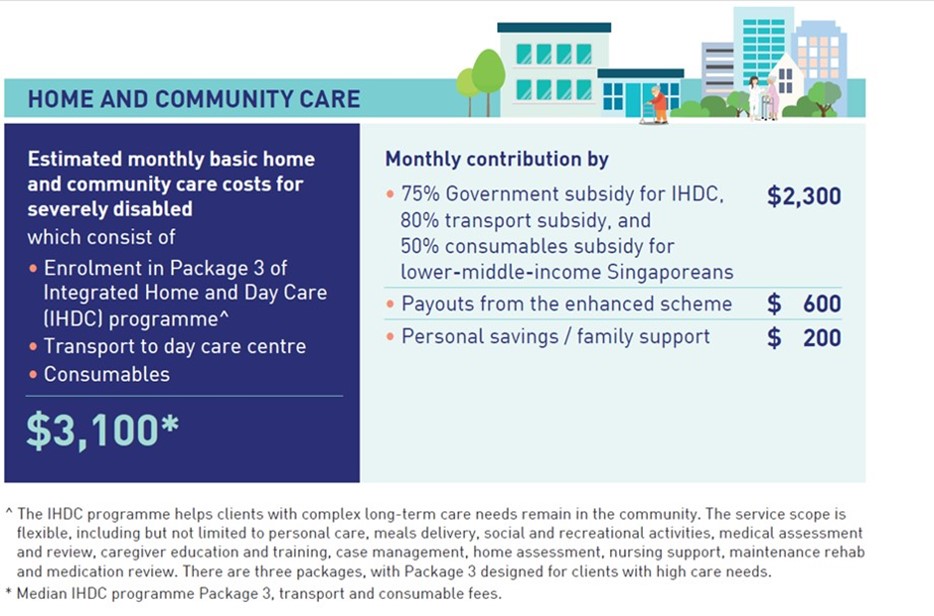 Source: Eldershield Review Committee Report, 25 May 2018
Given the high probability of severe disability, the duration of disability (should it happen), and the strain of long-term care costs on the family, one should consider joining CareShield Life to enhance their safety net for long-term care expenses. This saves you from setting aside more for your retirement to cater for this potential expense. You can further enhance the payouts by adding a supplementary Long-Term Care Plan (or ElderShield Supplement) from a private insurer. These supplements can be paid using your MediSave savings up to $600 per year per insured. You can compare long-term care plans here.
In summary, a hospitalisation insurance and long-term care insurance are the two main insurance policies you will need during your retirement years. This is to ensure your savings are not prematurely depleted due to large medical bills or need for additional caregiving. This is also why the government has made it mandatory for all Singaporeans and PR to be covered under MediShield Life and CareShield Life for life. Your most important consideration then is to determine whether the basic coverage provided is adequate for you based on your expectations for healthcare and caregiving and to enhance your coverage accordingly.
As you approach retirement, you may find it worthwhile to review your entire insurance portfolio to drop insurance coverage that are no longer necessary to save on your total expenses. For a holistic review of your financial portfolio, speak to a friendly MoneyOwl adviser today.
This article was first published in May 2021 and updated in August 2021. This article is part of a bigger series "The Ultimate Guide To Retire Comfortably In Singapore" – click here to view all the articles in the series.