The Reason Why MoneyOwl is Selective About The Variety Of Investment Funds For Our Client's Financial Well-Being
Gifts are my love language. This season of gifting has reaffirmed my highly-selective nature when it comes to choosing the best for my loved ones.
As MoneyOwl's Chief Investment Officer (CIO), I'm also highly selective about the investment funds we let into our advisory portfolios. Marketing folks would argue that most people prefer variety. But I argue that we have to be selective for the sake of our client's financial well-being. We have a responsibility to keep their hard-earned money safe and their financial goals a top priority.
Why is MoneyOwl's fund selection process so stringent?
At MoneyOwl, we believe that successful investing isn't about over-promising high projected returns or getting low-cost access to a slew of investment product offerings, which, up until recently, was only offered by the big industry players. It's about getting sufficient and reliable returns to meet your financial goals such as your child's education or your retirement expenses. Although, it's worth noting that MoneyOwl is probably one of the lowest-cost ways of accessing Dimensional funds.
However, long-term reliability doesn't mean there's no short-term volatility. The funds from Dimensional Fund Advisors that MoneyOwl has selected to make up our portfolios take broad market indices and tilt them towards dimensions of higher, long-term expected returns of value, size, and profitability. Over the short term, the stock market still experiences fluctuations. Sometimes the value, size, and profitability premia show up, sometimes they don't.
In the last several months, we were heartened by the strong resurgence of the value and size premium. I confess that I succumbed to a few minutes of childish pride when a friend, who invests in both robo advisers and MoneyOwl, told me that we had outperformed all three in his radar since late July.
The thing is, we shouldn't worry too much about recent short-term performance. Premiums are volatile. But what we can say with confidence from this outperformance is that value is far from dead, contrary to what some predicted based on short-term performance. Similarly, the dominance of a few large stocks, as we have seen with technology these few years, is reversible (as we recently saw). It's neither a new phenomenon nor one that detracts from the existence of the small-cap or size premium.
Why do Dimensional funds meet MoneyOwl's criteria?
Dimensional funds trust markets and don't gamble investors' money on their hubris. Their strategies are not based on forecasting, which is often euphemised as "investment skill" or "dynamic allocation". Dimensional shares our philosophy of staying invested in broadly diversified markets to capture long-term market returns.
There are more than 7,000 securities in each of our portfolios. This philosophy allows Dimensional to make its funds available to retail investors only through advisers as it understands the key role advisers play in keeping investors invested.
Staying invested means sticking to the regular investing that has been set out in our financial plan, so we can meet our life goals. We keep investing regardless of how the market is performing because we know that stock markets always recover and go up in the long run.
The only "timing advice" you will ever hear from MoneyOwl – as our clients did in March 2020 – is to buy more with your "dry powder", when markets are on cheap sale, to add a booster to your existing regular investing plan.
On the flip side, we are very clear that even missing a few best days (when markets are high) can jeopardise your long-term return. Consider how many best days we recently saw in November and early December 2020!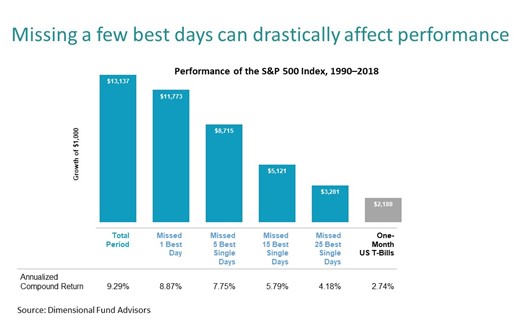 So, as we like to say, the best time to start investing was 20 years ago. The second best time to start is today.
Working with a fund manager like Dimensional who trusts in letting markets work is important. There's no point in advisers like MoneyOwl repeating "stay" if our fund managers make asset allocation shifts in portfolios that detract from our clients' long-term return. This is evident in the 2008 Global Financial Crisis, as well as earlier this year when the global pandemic hit. On both occasions, many experienced fund managers opted to sell down equities, only to be caught out by the fast rebound that can and did happen.
Dimensional also made the cut because their investment philosophy and strategies are built on the solid foundations of academic science. These strategies are supported by both Nobel prize-winning financial thought, comprising valuation logic and an impressive length and breadth of evidence.
Without going into the math, value plus small caps plus profitability makes a lot of sense. You're buying into quality companies with the highest long-term growth potential at value prices. In other words, you're combining the best of value with the ultimate growth machines, which are already profitable.
Data-wise, there is evidence that the size, relative price, and profitability dimensions have been persistent across time and pervasive across markets. Each premium has appeared over many decades in the US market. Looking beyond, these premia have also appeared in Developed ex-US and Emerging Markets. The data supporting the dimensions of expected returns, combined with a strong logic about why this approach makes sense, offers greater confidence that the premiums will persist in future time periods. How big can these premia be? Take a look below. You may not get them every month, but they are well worth investing in!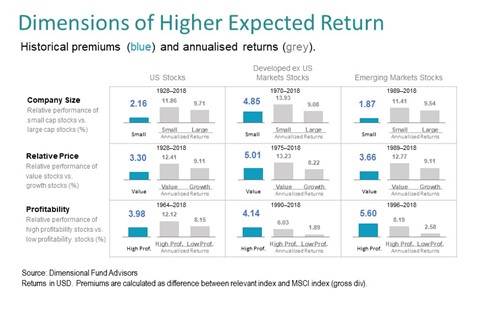 Furthermore, Dimensional funds have a low expense ratio (built into the Net Asset Value of the fund) averaging 0.30% p.a. – a fraction of the high-cost funds available for retail investors in Singapore. While we don't aim to be the cheapest but to offer value, MoneyOwl is currently the lowest-cost way of accessing Dimensional funds for anyone with funds below S$1million to invest.
This doesn't mean that MoneyOwl won't use other funds for our investment portfolios in the future. We're not Dimensional salesmen. Neither do we receive any trailer commissions or any kind of payment from Dimensional. In fact, we're always on the lookout for good investment solutions that can cross the high bar of analysis and evidence, as well as the low expenses that we require, for that high degree of reliability we want for our clients.
It's not all about investments
Finally, it's worth mentioning that while we're selective about investments, MoneyOwl doesn't look at investing as mainly about accessing good financial products. As a comprehensive financial adviser, we always believe that it's best to craft a holistic financial plan because what you do in one area of your life will have an impact on all other areas.
Singaporeans looking to accumulate towards retirement should also always start with CPF before considering investing in products. This isn't about using your CPF as a source of investing funds. Not everyone should. It's about understanding how much retirement income you can expect from CPF LIFE, our national annuity scheme. If you haven't done so, I encourage you to consider doing up a personal comprehensive financial plan with our fully-salaried advisers, all of whom are on the internationally-accredited Certified Financial Planner programme.
Are we good at this? Allow me to finish with a story, also of selection. Three years ago I was working as CIO of a foundation. When I was asked to put together a different type of financial advisory, I could not settle for anything short of bringing together NTUC Enterprise and Providend.
The group of NTUC social enterprises constitutes national and social enterprise pillars, dedicated to the ordinary Singapore family and a strong parent. Providend is Singapore's first fee-only financial adviser and specialist in retirement and CPF. It's also one of the oldest independent financial advisory firms serving the affluent market, for over two decades, to the highest standards of ethical practice and advisory expertise.
The resulting Joint Venture, of course, is MoneyOwl. When you plan with MoneyOwl, therefore, you know that you are complementing your investing in best-in-class solutions, with the best-in-class trusted advice of an NTUC social enterprise. We will look after and journey with you towards your life goals.
Disclaimer: While every reasonable care is taken to ensure the accuracy of information provided, no responsibility can be accepted for any loss or inconvenience caused by any error or omission. The ideas, suggestions, general principles, examples, and other information presented are for reference only and are not meant to be a substitute for professional investment advice. The information and opinions expressed herein are made in good faith and are based on sources believed to be reliable but no representation or warranty, express or implied, is made as to their accuracy, completeness, or correctness. Expressions of opinions or estimates should neither be relied upon nor used in any way as an indication of the future performance of any financial products, as prices of assets and currencies may go down as well as up and past performance should not be taken as an indication of future performance. The author and publisher shall have no liability for any loss or expense whatsoever relating to investment decisions made by the reader.
Announcement: With effect from 1 June 2022, MoneyOwl is a 100% NTUC Enterprise (NE)-owned company.