Investing in your children's ang paos provides the added benefit of flexibility
Happy 2021 and what a busy start to the year it has been!
Just as we're getting into the swing of things, i.e., getting balance in our work-life, recovering from the mini breakdowns for our children's school arrangements, and losing those extra pounds we put on over Christmas and New Year, it's suddenly another festivity!
No matter if you're thinking about using the long weekend as a sneaky get-away (lucky you!) or if you're preparing to 'red' the home to usher in the Winds of Prosperity, we thought it best to share how you could bless your children with the gift of financial wisdom during this festive season.
If you don't teach your kids how to manage money, somebody else will.
That's not a risk you want to take, parents! So why not use this Chinese New Year to start the ball rolling?
During Chinese New Year, as parents, not only do we have to distribute ang paos, greet and make small talk with relatives, but we also have to keep an eye out for our little ones as they run around. We may even find ourselves reminding them to keep those red packets safe ("Whose ang pao is this on the floor? Don't want I keep ah…") and get them to hand them over.
Quick tip! Aside from safe-keeping the money for your children, try getting them to count the money at the end of the day. It's a practical and easy way to teach them to count money.
While they count their money, consider taking this opportunity to introduce them to the importance of saving for a future need. An example could be teaching them to say 'No' to a new Nerf gun!
As parents, we do best when we incorporate the teaching of values into our daily, normal interactions with our children instead of heated lectures. This Chinese New Year can become a wealth of opportunities for you to address the value of money and good money habits!
---
Making the ang paos work harder for them
On average, a child collects close to S$300 each year. While it may not seem like a lot, one thing your children have, that we don't, is time. A one-year-old has almost 64 years to reach retirement! While you probably won't be thinking about your child's retirement now, for the sake of illustration, let's see how far we can stretch this ang pao money.
We place your child's ang pao money into MoneyOwl's well-diversified, low-cost, 100% equity fund with a projected average return of 6.7% per year. Assuming Singaporeans marry at an average age of 27 years old, this stream of ang pao money will be constant for 27 years.
The illustration below shows the amazing power of compounding over long periods of time.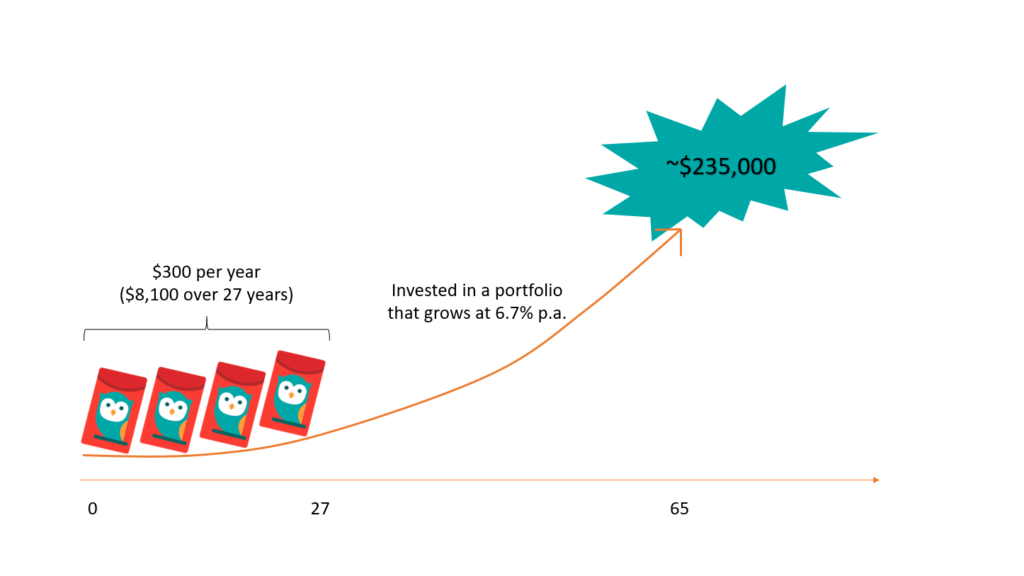 Imagine setting aside just S$8,100 which is 27 years of ang pao money and then allowing the money to compound over 37 years with no additional capital, your child can reasonably expect S$234,832 at age 64.
What's more, if your child starts working and continues to invest S$500 a month into the same portfolio from age 27 for the next 37 years, it will grow their retirement fund by more than S$1.2 million from these simple actions.
---
Take that ang pao and multiply it further!
Now let's consider another scenario: paying for your child's university education. Based on a four-year local degree programme, fees today cost on average S$36,000. In 18 years' time and with a conservative educational inflation rate of 4%, your child will need at least S$73,000.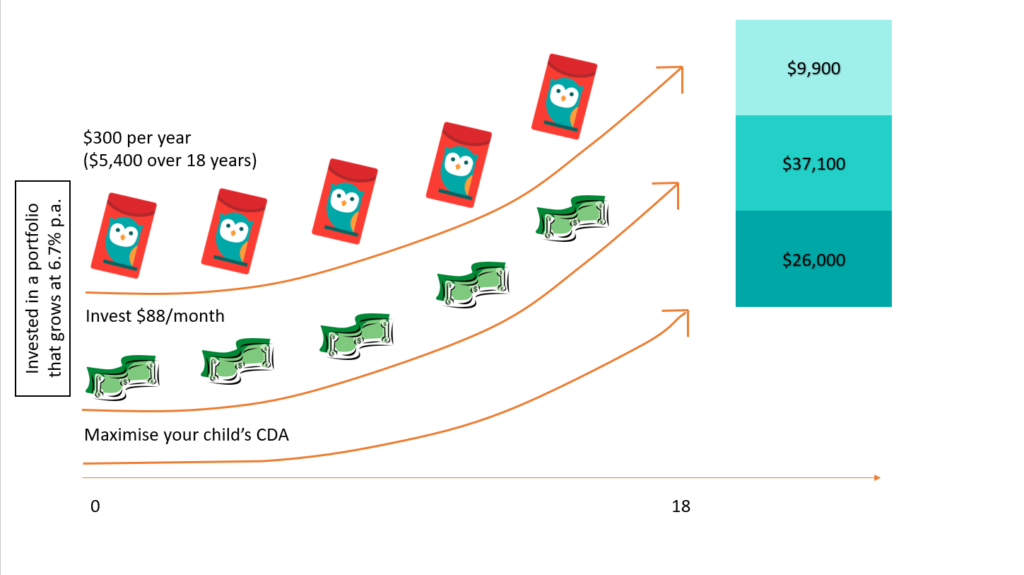 For this scenario, investing our children's ang pao money alone would not be enough. But if you set aside S$88/month over 18 years into the same investment portfolio, your child's fund can be fully met! Talk about the power of many helping hands.
What's more, investing in our children's ang paos provides the added benefit of flexibility. For example, if your child does not use the fund for education, they can easily repurpose it for something else. Back to the previous retirement example, such a goal suddenly doesn't look too far off at 18!
Here's an explainer of MoneyOwl's portfolios if you wish to start your child's investment journey.
How to use MoneyOwl to create your child's investment portfolio:
Parents can open a MoneyOwl account by visiting our investment platform.
Create a portfolio and complete the online risk profile questionnaires. Consider when your child will be entering tertiary education to determine the time horizon.
You will then receive a recommended portfolio and a projected cash value based on your need, ability, and willingness to take risks. If the recommended portfolio is comfortable for you, proceed to Step 7. However, if you have any concerns, please feel free to contact our MoneyOwl client advisers!
Finally, follow the instructions to top up your MoneyOwl portfolio.
And voila! You are all set. Your initial capital will now be invested into the fund and you can check the portfolio value as you wish. The performance of your investment portfolio from the time you started investing is shown as the Total Return in percentages.
We hope this article has been helpful for you. Remember to collect your child's ang paos, have them count the money, and hand it over to you. Get started today to ensure a brighter financial future for your children!
The author of this article, Colin Lai, is a client adviser at MoneyOwl.
All investments come with risk. What this means is that you may get back less than what you have invested. Make sure you understand what you are investing in and that it meets your financial needs before committing. Past investment performance is not a guarantee for future performance. If you have any doubts, please speak to our MoneyOwl Client Adviser first and we will be happy to address your concerns.