With a life expectancy of 86 years, women in Singapore live longer than men (81 years of age), but tend to invest less than men. According to a personal finance survey in 2022 by an investment firm, Fidelity International, only 59% of Singaporean women actively invest, compared to 72% of males. One reason for this could be the gender pay gap, which can make it harder for women to save and invest. Women also tend to be the primary caregivers – taking leave, reducing their working hours, or taking career breaks to take care of the family, affecting their earning power.
I should know. I was blissfully leaving my finances to sort themselves out with the basic earn, spend and save formula until my stint as a full-time mum last year. Then I felt the sting of not earning an income, rising costs, and the triple whammy of increasing monthly housing repayments due to rising interest rates. It took major budget stretching skills, eliminating of unnecessary expenses (bye yoga membership!), and a toll on my social life. It was a simple realisation – if you don't leave home, you simply spend less. Of course, steeping in the joys, angst and every rainbow colour of emotion while raising my rambunctious firstborn and having that front-row seat to all her firsts was worth it – but it did come at a trade-off.
Working at MoneyOwl helped me to overcome the inertia and get things moving in the right direction. Here's what I learnt:
Start with A Personalised Financial Roadmap
A journey of a thousand miles begins with a single step, says a common Chinese proverb. Here's a first step that anyone can take. MoneyOwl's Comprehensive Financial Planning robo-adviser takes into account your goals, income, expenses, and other factors that would impact your financial future. After going through a series of guided questions, you will generate a personalised digital report that includes actionable recommendations that you can take to save, insure and invest more effectively. The report includes MoneyOwl's proprietary CPF analyser that shows you how to leverage CPF's innate compounding power to boost your retirement savings and what you can do to close your protection gaps and diversify your investments.
So what did my report tell me? I had achieved healthy financial ratios (no surprises there, having saved relatively diligently over the past years). There were significant gaps in my insurance protection, and I still had the potential to retire at my ideal retirement age of 60 with a decent monthly payout if I acted on investing now. I particularly appreciated the encouraging tone of the analysis and the practical steps it shared to help me achieve my desired end goal.
In celebration of International Women's Day, MoneyOwl is offering our Comprehensive Financial Planning Online Report for free till 31 March 2023, with the promotion code "WMNDAY". Refer to the infographic below to redeem this offer.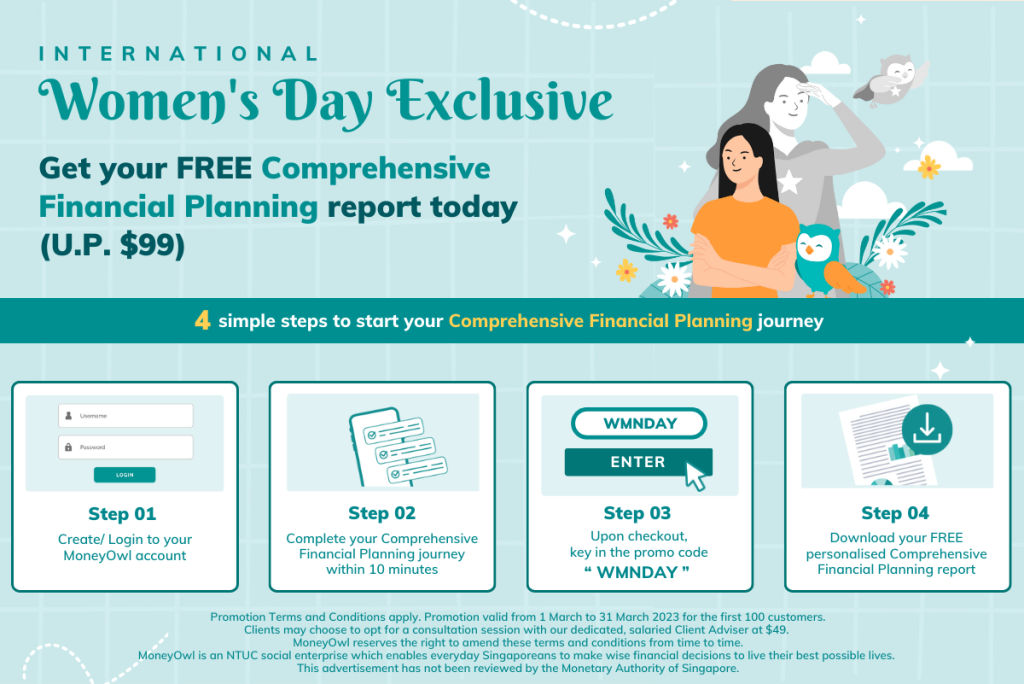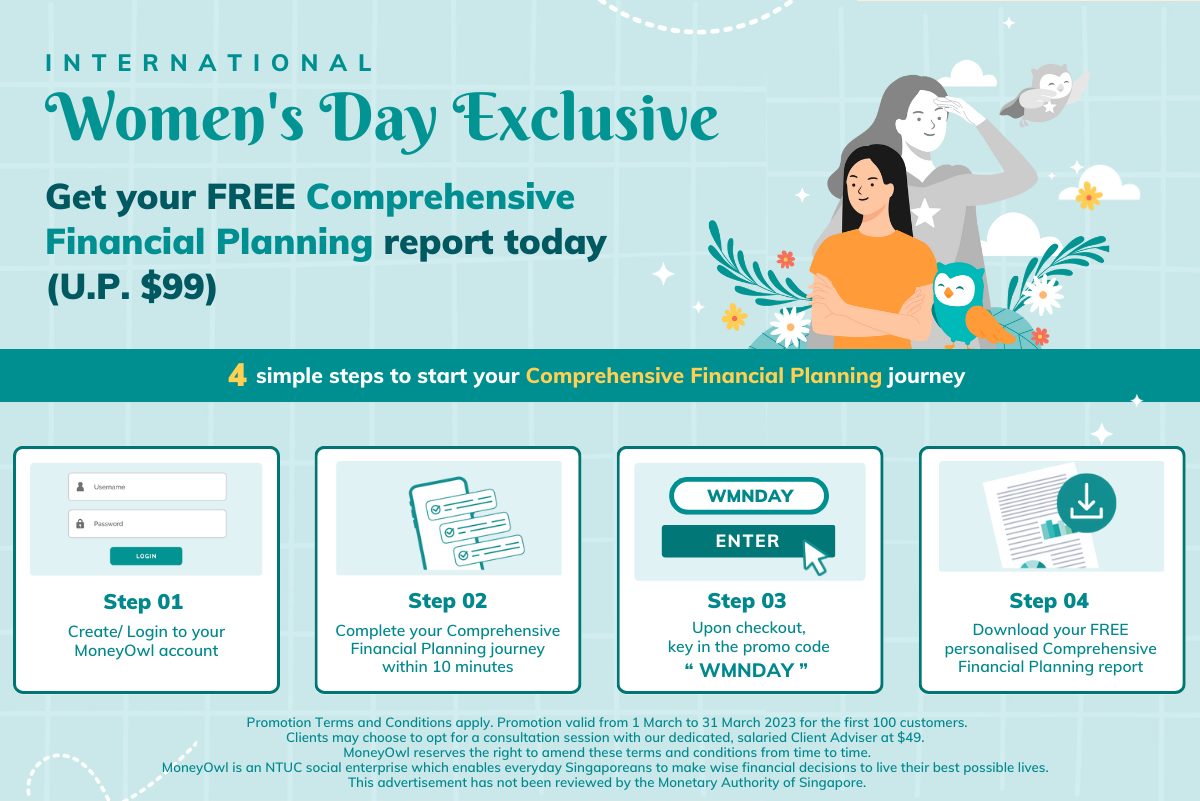 Loss-Aversion May Cause You to Miss Out
According to a Harvard Business Review article, women are more risk-averse than men on average and take less risk. But with women living longer and rising prices, it is even more imperative for women to start looking into investing a portion of their assets and take on some risk appropriate to their age, situation and goals. Otherwise, they may fall short of their retirement and other long-term goals.
Investing need not be uncomfortable. Women (and men!) can focus on some key principles such as strategic asset allocation (aka buy and hold), broad diversification, and low-cost solutions, to improve their chances of investment success.
If you are not sure where to start, consider MoneyOwl's investment options, which offer you a carefully curated selection of well-researched and globally diversified portfolios suited to different risk appetites and investment objectives. Although short-term volatility in the market happens, history and financial science have shown time again that the markets will reward investors with above-inflation returns.
Having Enough for a Rainy Day
Just as we are happy to see our saving balances accumulate and grow with compounding interest, inflation works the same way but in the reverse manner – making it that much harder for you to afford what you want as the years go by. And in current times when news of company retrenchments are making headlines, it is important to save up sufficiently for an emergency rainy day fund so that you can meet any unexpected expenses.
MoneyOwl's WiseSaver will help you earn a higher return than your regular savings deposits at low risk, and you can withdraw it within 2 business days. [Consider parking your emergency funds in MoneyOwl's WiseSaver, a cash management account now at an attractive gross yield of 3.95% p.a.  (5-day moving average as of 3 March 2023).] As for me, building up my emergency funds had served another purpose, and gave me the assurance to take a short career pause in favour of my family.
Invest in Learning (about Investments)
You know what you know, and what you don't. But you can always start learning about the basics of investing, such as different types of assets and research on the options available to help you make wiser investment decisions and feel more confident in your ability to manage your finances. Many women may feel intimidated by investing, but it doesn't have to be complicated.
One key insight worth acting on is diversification. By investing in a diverse range of assets, you can mitigate risk and increase your chances of long-term financial success. MoneyOwl's Dimensional portfolios invest in a range of broadly diversified securities that enable you to remove the guesswork out of investing, while leaving the markets to do their work of earning the returns for you.
Don't Be Shy to Ask for Advice
I have put off purchasing my life and critical illness insurance policies for years as I was wary about agents hard-selling – one thing that my client adviser colleagues here were able to put my mind to rest about. In addition to recommending the best-fit insurance coverage at an affordable cost for my needs, I appreciated that they took the time to address my questions and allay my concerns. In hindsight, I was fortunate that no medical emergencies had cropped up that could have impacted my finances severely. If you are new to financial planning or feel uncertain about your financial future, you may benefit from working with a financial adviser to help you develop a personalised strategy and tap on their support. If you don't know where to start, make an appointment with our friendly advisers here.
In conclusion, don't leave your finances to chance as you will be missing out on that golden ticket to your best possible life. Setting that time aside to plan your finances comprehensively is the best gift you can give yourself. By integrating budgeting, insurance, investing and CPF optimisation strategies into a comprehensive financial plan, we hope all women will feel empowered to continue reaching their goals and achieve greater financial security and independence!
Shao Ru is MoneyOwl's multi-tasking content marketing manager who finds joy in writing and content creation while learning about finances and cherishing moments with her playful toddler.
Disclaimer
While every reasonable care is taken to ensure the accuracy of information provided, no responsibility can be accepted for any loss or inconvenience caused by any error or omission. The information and opinions expressed herein are made in good faith and are based on sources believed to be reliable but no representation or warranty, express or implied, is made as to their accuracy, completeness or correctness. All investments carry risk. Past performance should not be taken as indication of future performance. The author and publisher shall have no liability for any loss or expense whatsoever relating to investment decisions made by the reader.